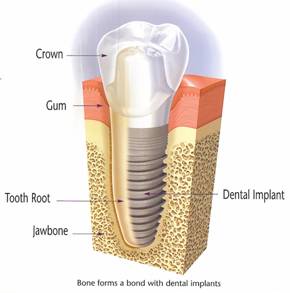 Dental implants are an ideal form of tooth replacement. The implant restores full function in a way no other process can, with the titanium post acting as a new root in the jawbone.
Through an integration process, this restoration becomes part of the permanent structure. A crown, bridge, or full denture can be secured on an implant for a comfortable, beautiful smile. This method of tooth replacement has been proven safe and effective and has been used for over thirty years.
With this proven track record, tooth implant treatment has become the standard of care in our practice for the replacement of lost or extracted teeth. The immediate investment into dental implants may be slightly greater than other conventional treatments, but the lifelong benefits of such therapy makes implants the most cost-effective treatment plan.
Dental implants provide a strong foundation for natural-looking replacements, with the titanium posts placed directly into the jawbone. In the months following implantation, bone fuses around the implant, creating a strong foundation.
If you have lost teeth, this treatment can enable you to resume eating all of your favorite foods and smiling confidently, with the knowledge that your teeth are secure, beautiful, and functional. Implants also preserve natural facial contours through the constant stimulation of bone tissue, keeping your face looking younger or more vibrant.
Renowned in cosmetic dentistry, Dr. Stephen Haywood is unique in that he provides all phases of implant care—from initial evaluation to follow-up after treatment.
Tooth implants can change not only your smile, but also how you live! This form of treatment can help you rediscover the confidence and comfort you deserve. Speak, laugh, and eat more freely with dental implants.
The Benefits of Implant Dentistry
There are many benefits to dental implants.
Dental implants can restore full mouth functionality. You should be able to enjoy all the benefits of a full, beautiful smile.
Each tooth implant is restored with a porcelain crown that looks and feels natural. The people you meet may not even be able to tell that you've ever lost a tooth. You can begin to feel confident in your smile again.
Dental implants are made from highly durable materials and can last for decades.
Proper care of a dental implant is relatively easy. You can brush and floss your implants the same way you'd brush and floss a natural tooth.
In the industry, dental implants are regarded as one of the very best tooth replacement options, because the dental implant is the only restoration that replaces both the tooth root and the tooth crown.
Because dental implants replace the tooth root and restore necessary tooth support, a dental implant can help prevent bone deterioration and maintain oral health.
With dental implants, you can often avoid a sunken appearance due to bone loss.
Dental implants provide solutions for patients in Timonium and Towson Maryland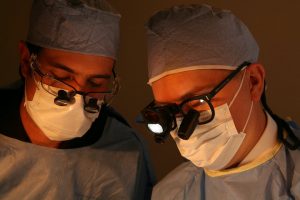 Whether for a solitary tooth or total replacement, teeth-in-a-day or "all-on-4" restorations, dental implants are the ideal treatment for missing teeth.
Dental implant solutions are affordable for most people and can be as elegant or simple as you might need. Dr. Haywood has done nearly 3,000 implants to date and has the experience necessary to complete challenging cases. Generally, complex cases are more costly and the fees for simple cases are smaller.
Single tooth replacements can be restored in as little as 6-8 weeks. Other replacements take only one day to complete.
Dr. Haywood can provide you with a high level of care, and he maintains an exceptional success rate in the provision of dental implants in our comfortable office setting. We are committed to offering you the most functional, beautiful smile possible. That's what you deserve!
Let us explain all your options. In our practice, you can experience tooth replacement with the comprehensive care you want (all right here in our offices) to finish the job efficiently and in the quickest time frame.
Determining Good Candidates for Dental Implants in Timonium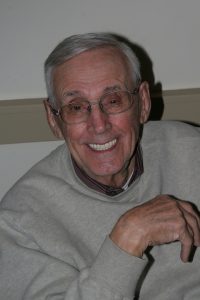 To determine if dental implants are right for you, we recommend a full dental examination that includes x-rays or a CAT scan and a discussion of your health history. Throughout your consultation process, Dr. Haywood will listen to your specific needs and answer any questions you may have about dental implant treatment.
Our team has the skill, compassion, and knowledge to see you through a comfortable and successful oral surgery. We can show you videos, photos, and models of cases just like yours.
In addition, Dr. Haywood maintains a prestigious fellowship in his implant academy and has performed thousands of implant cases with tremendous success.
When advisable, we do advanced computer-guided oral surgery for planning as well as for creating implant guides. We offer limited or extended warranties and stand behind our work.
The Dental Implants Process for Patients Near Towson
A dental implant post is made of titanium, a metal that tends to be readily accepted by the body. This post acts as a root substitute, once it is surgically inserted into the jaw. A portion of the implant remains above the jawbone, where small posts affix the implant to a replacement tooth.
The tooth implant can also be used to support several teeth, an implant bar, or a full set of teeth in one day. The options are almost without limit in this type of oral surgery!
Typically, two procedures make up the entire implant process. In the first step of the procedure, dental implants are inserted into the ideal position in the jawbone, where they are naturally integrated into the bone tissue. During this phase of healing, temporary teeth are in place so that you can chew comfortably.
The second phase of treatment begins after the tooth implants have become integrated into the jawbone. In this procedure, tooth implants may be uncovered for the placement of a healing collar, or, depending on the state of gum tissue, the final impression will be made.
This impression is used by the dental laboratory for the fabrication of the post and crown. It can also be used to create your final implant-supported bridge or your all-on-four denture appliance, depending on what you have chosen.
The entire dental implant oral surgery process can take from three to six months, with most people falling into the shorter time frame.
You deserve a smile that is beautiful, healthy, and fully functional. Contact your Towson and Timonium, MD, area dentist to learn how tooth implants can benefit your life.