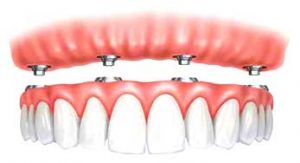 When a person loses all their teeth we would wish for there to be something available to us that is exactly like our original teeth as a possible replacement. The ultimate application for implant is as a complete "fixed" set of teeth that are either screwed in or cemented onto the underlying implants.
Names for procedures in this category may include:
"ALL-ON –FOUR" implants
ALL-ON-FIVE implants
Full Fixed Implant denture
Fixed Hybrid implant denture
Full fixed implant bridges
or "permanent dentures".
The advantages of fixing or connecting the teeth firmly to the underlying implants are many. The main advantage is that they do not move or wobble while eating and that chewing is the most natural of all the options we can discuss. The need for at least 4 implants is basic to any good implant plan in dentistry. Often we will suggest more implant support than the basic 4. The lack of enough good bone support may lead us to recommend more implants as our foundation.
Strength and long-term stability are also man advantages that point people toward choosing a fully fixed implant restoration. This category of the procedure is usually the most costly due to the components necessary to provide a long-lasting implant prosthesis. Teeth wear out and things need to be regularly cleaned by dental professionals. If these factors are disregarded patients may not achieve the satisfaction they desire. Fees for full implant restorations with the minimal number of implants needed to do the job will start at about $28,000 per arch in our offices. (There are many options/features available and more than 4 implants per arch are often advisable)
Here are some of the pros and cons of fixed implant dentures:
Pro: most like natural teeth
Con: Cannot be removed to clean underneath.
Pro: Smallest full dental replacement style available
Con: Costliest
Pro: Can last for a lifetime
Con: will only last with professional care. Be aware of the expense.
Pro: The teeth themselves can be repaired if they break off or chip.
Con: Because chewing strength is so high with these you can expect teeth to need service at some point.
Pro: We always make a set of teeth as a spare for our patients
Con: if you don't have a spare set made you may have to go without teeth if they ever need service.
How we make our specialized full fixed implant restorations: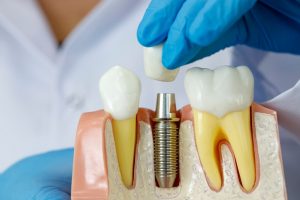 We are always excited to make fully fixed restorations for our patients. Over the past 34 years, Dr. Haywood has made hundreds of these elaborate implant prostheses with unrivaled patient satisfaction and comfort. The years of experience in the field have led Dr. Haywood's team to create some exceptional dental creations.
The hallmark of our implant work is uncompromising quality. We often have the pleasure to review the planning from other offices and generate our own proposals. Second opinions in our offices are always complimentary. Many of these second opinions come from "ClearChoice Implant Centers" which is a corporate subsidiary of the ASPEN Dental Corporation. Our patients find that our personalized treatment planning and a full range of implant restorative options are far more appealing than corporate approach. We perform complementary CT scans and offer to finance for dental implants just like these firms however we regularly exceed both the quality and value of any of their plans.
Our ALL-ON-FOUR restorations are all supported by custom CNC milled titanium bars made almost exclusively at Panthera dental Labs in Montreal, Quebec, Canada. We offer many options for implant teeth themselves. A hybrid implant restoration is mostly plastic outer fabrication with high-strength denture teeth as a starting point. We recommend, at additional cost, custom-made ceramic teeth for the ultimate durability and beauty. We are unaware of anyone in our region offering the technical quality, beauty, and value when it comes to full implant restorations.
We are excited to speak with you about your options and to go from CT scan to planning, to extractions, to implant placements, and then to final restoration all in our local offices. We sincerely look forward to helping you.