Timonium Dentist, Dr. Steve Haywood
When you visit your Timonium dentist, Dr. Steve Haywood, you'll enter a comfortably-designed office and be welcomed by our friendly team members. If you need assistance completing any appointment paperwork, a staff member will be happy to help you.
Each of our operation rooms is equipped with the types of innovative dental technologies that help us quickly and efficiently complete various forms of treatment. We clean and sterilize each of these treatment rooms after every patient. Once comfortably in the treatment chair, you are encouraged to sit back and relax!
As your preferred Timonium dentist, Dr. Steve Haywood and our team strive to consistently serve you with the level of care that helps you achieve long-lasting health and beauty. We are always happy to welcome new patients into our family.
Spa Services and Comforting Amenities
Our office is pleased to offer the unexpected – spa services. You can enjoy the option of having paraffin wax hand treatments and aromatherapy during your appointment. Sometimes little things make all the difference in your comfort!
Would a glass of merlot, chardonnay, or other wine be right for you, or would you rather enjoy a fresh cappuccino or fruit juice? How about a relaxing chair massage, CD headphones, or a scoop of Ben & Jerry's Ice Cream?
Is there something extra special we can do for you? We love to help rejuvenate your spirit as well as your smile. We hope you will enjoy our unique way of pampering you.
We understand that, for many children and adults, the mere thought of an upcoming dental visit can be upsetting. To accommodate you, our staff takes an extra gentle approach to dental care in a spa-inspired environment.
Sedation Services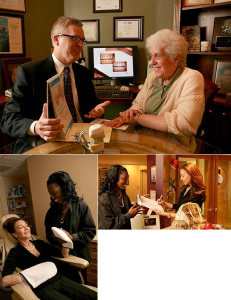 We offer a wide variety of sedation choices for your comfort:
Laughing Gas, a relaxing gas sedative, is a complementary treatment service. Just let us know you request its use.
IV Sedation serves as a reliable source of deep conscious sedation for lengthy or more complex forms of treatment. If this is needed, we work with local anesthesiologists.
Sleep-like Sedation is possible with an oral sedative, a popular method of easing the stress of a dental visit. Request information on our "sedation for life" program.
* People of all ages can benefit from our comfortable filling process, provided by micro-air technology.
Enjoy a truly pampered dental experience by a trusted Timonium dentist, Dr. Steve Haywood, and call today for an appointment!