Get Straight Teeth With Invisible Braces In Timonium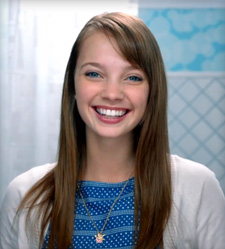 For some teenagers with crooked teeth, the idea of wearing traditional braces for two years can discourage treatment, but now, with Invisalign Teen, they can enjoy the benefits of a beautiful, straight smile. Dr. Haywood in Timonium is proud to offer Invisalign Teen as an excellent orthodontic alternative for his Baltimore teen patients with misalignment issues.
What Is Invisalign Teen?
Invisalign Teen is an orthodontic alternative to traditional braces that uses a series of clear aligners instead of metal or brackets. Each aligner is designed specifically for your teen to gently push their teeth into a straighter, more uniform position. Invisalign Teen works gradually and efficiently, and makes tracking progress easy.
The Benefits of Invisalign Invisible Braces
There are many benefits of the Invisalign system:
Invisalign Teen aligners are invisible braces. Unlike traditional braces, Invisalign Teen braces won't stand out against your teeth or draw unwanted attention to your smile during your straightening treatment.
Invisalign Teen can straighten minor misalignment issues and help you achieve  beautiful, straight teeth. You can feel more confident and may even smile more often. You may also enjoy greater oral health, because uniform teeth are easier to clean and less likely to develop dental problems.
The treatment time necessary for Invisalign Teen is shorter than most traditional treatments. Invisalign Teen treatments require less appointments and can save you time and can add convenience.
Invisalign Teen aligners are completely removable. You won't have to worry about food restrictions and you can brush and floss your teeth normally.
To find out more about Invisalign Teen, or to find out if invisible braces best suit your orthodontic needs, call us at our Timonium office today! We want to give you straight teeth that you can be excited about, and we will work with teens from all over the Baltimore area, including Towson and Pikesville!